---
Purpose-driven fitness for active women who know there's something missing.
---
Love fitness and have prioritized it for years
Know enough about fitness to keep winging it and it would honestly keep being "fine"
Are eating healthy and working hard in the gym but feel frustrated and confused about why you still hate your body
Kind of hate the idea of hiring a professional for fitness because it feels like admitting defeat in a weird way
---
Sound like you? Keep reading.
---
Here's a non-exhaustive list of well-intentioned things you may be doing that are
actually working against you:
-> All or most of your workouts are HIIT or "cardio but with weights"-- we need to rethink that approach
-> Eating less on the days you don't workout because you feel guilty
-> Intentionally eating less food after you've eaten "bad" or "too much" to try and "make up" for it
-> Your days are so stressful and consuming that you stay up super late to wind down, and hit the gym hard the next day anyway
-> Lifting only like a body builder when you're indeed... not a body builder
-> Lifting only like a CrossFitter when you're indeed...not a CrossFitter
The list goes on.
Any combination of these things are working against you.
They are adding additional stress to your body, making your workouts less effective, driving up your primal hunger, and making it absolutely impossible to have a normal relationship with food and your body. Not to mention that actually gaining fitness with this approach will continue to be an uphill, never-winning battle.
---
TBC was designed for women like us.
We're busy.
We've got a lot on our plate.
We are responsible for a lot of things.
We know how to get shit done.
We don't need coddling or hand-holding.
We are accountable to ourselves.

And we love feeling as powerful in the gym as we do in real life.


The Barbell Collective is the most flexible yet effective training program you'll get your hands on.
You don't always have the same amount of energy or time day to day or even week to week.
So you need something that meets you where you're at without babying you.

Whether it's a shit-show week or a get-shit-done week, you'll have everything you need to get into the gym, crush it, and get on with your life.
Slept like crap? TBC has options for that.
On your period and want to die? TBC has options.
Work is nuts and you have no time? TBC has your back.
On a much needed vacation? Gotcha covered.
Having a body image meltdown? Yep, that too.
Did you know that the female body and brain actually needs this much flexibility in your workout program?
This is how I know that TBC is exactly what you need, because everything you've done over the past several years has been militant, rigid, push harder, push more, push faster--- we get that inside TBC, but it's not just that.
With options to both push yourself and reign yourself back in when you need it, The Barbell Collective
is the only comprehensive strength and conditioning program designed for athletic women who love fitness and want it to love them back.
Hi! I'm Christina and I've been doing this for over 14 years.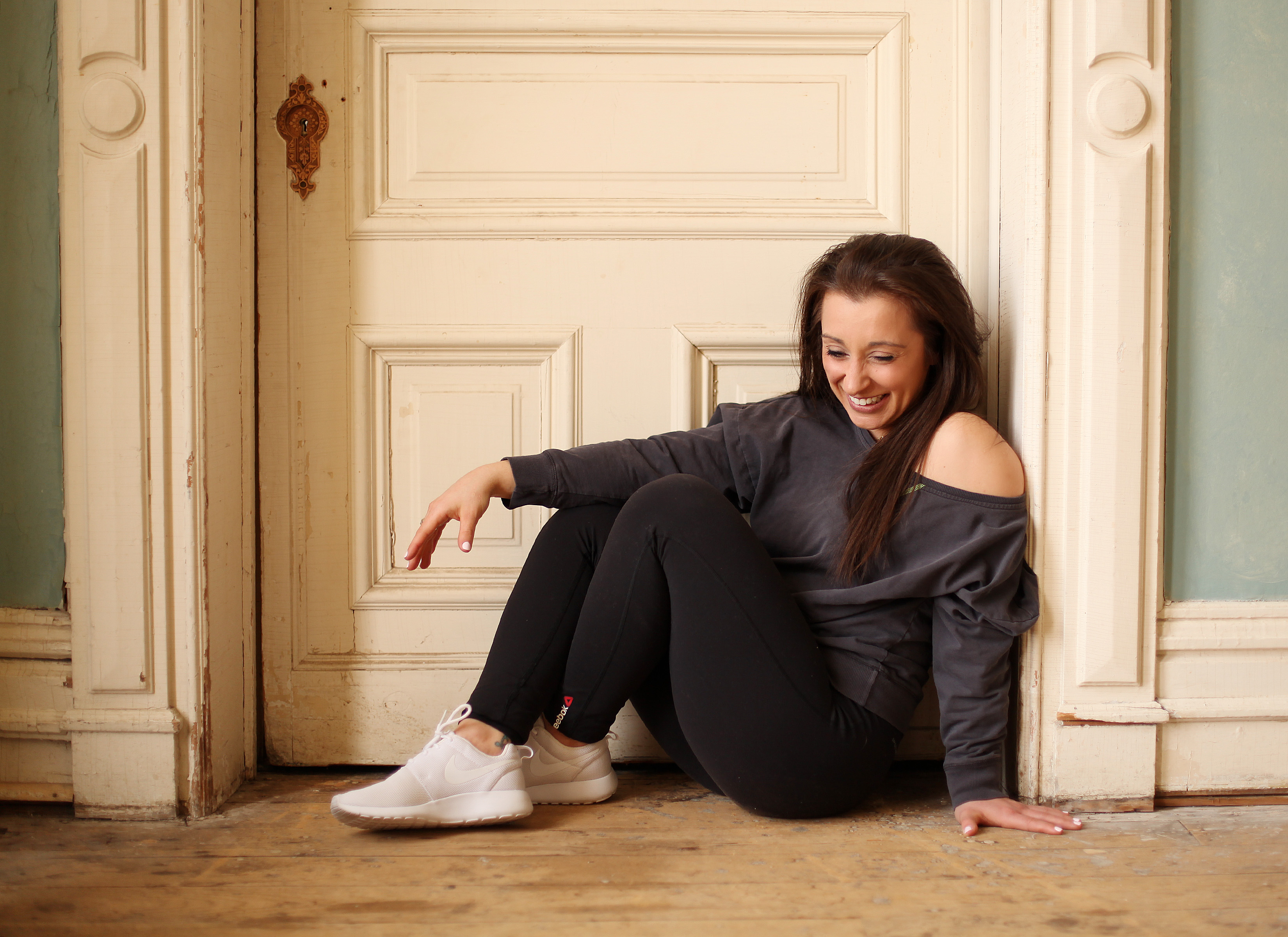 Fitness used to consume me in the worst way until I learned how to reclaim my power.
I thought I was powerful because I operated solely on will-power.
It didn't matter how tired, hungry, or busy I was- I made it happen.
I sprinted fast, ran all the miles, pulled and pushed heavy ass weight.
I had a dream body in mind and I was going to get it at any cost.
I swore up and down I wasn't crazy or obsessed- I was healthy and dedicated.
Until I cried over a bowl of my mom's homemade chili because I couldn't accurately track the macros.
Until my grandpa died and I realized I said no thank you to his famous home-made appetizers because I didn't save the calories for it.
Until my life got busier and I didn't have the time or energy to dedicate as much time to my fitness anymore.
I was hanging on by a thread. Because I wasn't "healthy and dedicated."
I was out-of-my-mind-bat-shit over all of this.
__________________________________________________________
As my career continues to grow and evolve, my relationship with fitness has as well.

I've gone from facilitating 10-12 training sessions each day to primarily sitting at my desk all day for work.
I've gone from being a highly disordered cardio junkie to a semi-less disordered CrossFit athlete.
At one point, I was competing both in CrossFit and Powerlifting at the same time.
I've been an avid 5k racer and a marathon runner all the way to triathlete.
Strength, agility, intensity, power, and endurance are all life-sources for me.
I love it all.
And yet, I continue to struggle with the idea that perhaps my grittiest, most badass, and my high-training motivation days are all behind me.
What brings me back into my power and puts my mind at ease?
The Barbell Collective.
Ha! Yes. Truly.
I follow the TBC programming.
Why wouldn't I? It's genius, if I do say so myself.

It is not some watered-down version of what you want to be doing or what you love to do.

TBC is not a part of some weirdo IG fitness cult.

It's designed, coached, facilitated and delivered by me.
It is by a real woman for real women- from me to you.
The best part of TBC is that it blends science with coaching.
Every last detail of TBC programming is carefully crafted, blending the latest science with high level coaching to make sure that not only your fitness is getting everything it wants, needs, and craves- but your mindset gets what it needs, too.
TBC remains to be the culmination of everything I've learned and mastered as a seasoned strength and conditioning coach for women over the past decade.
From program design, to rest times, to assessing your own biofeedback to help you decide what level of intensity you need on any given day, TBC sets you up for a lifetime of fitness success even when you feel like the odds are stacked against you.
You also get access to the TBC private Facebook group which houses additional resources, live trainings, and community. All workout related questions go into TrueCoach. Everything else outside of your workouts goes into the FB group.
You can use the FB group as much or as little as you'd like.
The training philosophy inside TBC relies heavily on the following foundational concepts:

-Rest days throughout the week
-Methodical rest times throughout each session
-Quality sleep
-Ample food (Nervous to navigate? That's what the FB group is for!)
-Warm-ups
-Mobility routines
-Diversifying your fitness goals throughout the year
-Focusing on purposeful conditioning vs "just doing cardio"


The above allows you to actually accomplish the following:

-Actually gain fitness and strength instead of spinning your wheels trying "the hardest" and gaining nothing but neurosis and fatigue
-No longer feeling consumed by thinking about your body all of the time (you can exhale fully when you're sitting down, in fact- you need to.)
-Understanding when it's time to PR and when it's time not to (and feeling good either way)
-Not spiraling out of control when you don't eat a fruit or vegetable all weekend (it's legit not a big deal, did you know that?)
-Take time away from the gym for any reason without freaking out


Sounds pretty dreamy, right?
---
TBC applications open a few times each year to make sure you never get lost in the shuffle.
---
---
---
---
---
---
---
---
---

The Barbell Collective is a monthly membership program.
-You download a free app on your phone, called True Coach

-You get 3 lifting workouts + 1 conditioning workout + 1 recovery workout sent to the app each week

-Each lifting workout gives you 3 options to meet you where you're at for the day; depending on your biofeedback, you can choose which option makes the most sense for you that day using our proprietary G/Y/R system

-You can mix and match each week as you see fit. This kind of structured flexibility is what will keep you consistent as your life (like everyone's) continues to ebb and flow
What you may be wondering about...
- You cannot fall behind in TBC. The programming is structured just like my gym was. You just keep on rolling. The workouts are programmed in such a way that you do not ever have to "go back" to "make up" for anything you may have "missed" due to illness, travel, work, kids, etc.

- We do not follow one "method" of fitness. TBC uses, blends, and infuses concepts from all different fitness ideologies including but not limited to: powerlifting, cross-fit, body building, RKC, Animal Flow, MovNat, FRC (functional range conditioning), as well as conditioning concepts and practices. This is what makes TBC so unique- it's an entirely non-dogmatic and unique approach to all things movement + fitness.

- It costs $129/month with a 3 month minimum commitment. Why? I genuinely want to help you and I can't in less time than that. In order for me to contribute to women no longer bouncing around from thing to thing to thing and program hopping all the time, a 3-month minimum commitment gives me time to get to know you, gives you time to get to know me, and bakes in the time for you to get in, settle into a new normal, and begin to make, see, and feel progress that's not defined by you obsessing over what you look like or stalking the scale for a .2 pound change *eye roll*

-After 3 months, you can cancel at any time. Many of our TBC members have been in there for literally years and I have the feeling you will love it so much you'll stick around too 😉

-Can you pause your membership? Nope. You're not paying for workouts. You can find workouts for free on the internet. You're paying to have access to me, my brain, and the community. You're paying for coaching. You're paying for someone to coach you through the "I want to quit" days, weeks, and even months. You're not unworthy of being inside TBC just because your workouts are inconsistent or even nonexistent. You deserve to be a part of a community of amazing women + have access to coaching even when you're "off your fitness game." Pausing your membership, while it feels like it's a huge bonus, is actually making you feel like you're paying for workouts and you're not. The TBC workouts are BOMB! And they're the least important thing I deliver. I promise.

-You need access to a commercial gym or a substantial home gym. This includes access to at least: a 4x4 space to move your body, different sized DBs, a box and/or a bench, and bands. You do not *need* access to a barbell, but that would be ideal.

-TBC is not for beginners. Let's define what that actually means: This cannot be your first lifting rodeo. You should know what a squat is- and you should be able to look at someone deadlifting and say: "that is a deadlift." TBC will not be a good fit for you if you've never picked up a weight before or never navigated a gym on your own. Do you have to know everything about everything? No. That's my job! 😉 But you shouldn't be a lifting newbie. You may feel like a fitness newbie (maybe because you feel like your body doesn't reflect your time spent in the gym??) but you should have a track record of being inside of a weight room in some way.
-What if it's too hard or too easy? Your current level of fitness and ability is not what I'm looking for to determine whether you are a good fit for TBC. All fitness levels and abilities can be accommodated- that's my literal job! Whether you're front squatting your body weight or just getting back into goblet squats, TBC guides you back to your fittest self without compromising your quality of life or taking away from the things that matter most to you. Everything can be made easier or harder. Everything can be scaled back or scaled up. TBC was built to ebb and flow with you, because that's what it takes to be a strong, fit, athletic woman for the rest of your life.

-TBC is not your savior or pacifier. It's magical but I'm not a magician. If you're hoping that TBC will be "THE THING" that helps you fall in love with lifting, this is not for you. It's not my job to convince you that lifting is fun- you already know it is. TBC is not for women who don't have a track record of getting to the gym- it's for women who are already working out and want to elevate their experience of themselves in a fitness setting.
---
---
---
---
---
---
Yes! Or a substantial home gym with multiple dumbbells, a box and/or bench, & bands
---
---
---
---
---
---
---
---
What the ladies of TBC are saying:
---
---
---
"....Best thing ever! I would pay so much more for all you give us! Physically, mentally, the whole gamut!"
---
---
"It is so freaking good. I haven't once felt guilt, urgency, or the need to make up because I know I'm doing what I can each day and my compliance has gone way up! It meets me right where I'm at each week and I love it!"
---
---
"I was starting to beat myself up over being so "behind" with my workouts, then I flipped my thinking around. Out of the 10 (almost 11) months I've been a member of TBC, I've completed 7 months worth of workouts- and it wouldn't be possible without this supportive community."
---
---
---
---
---