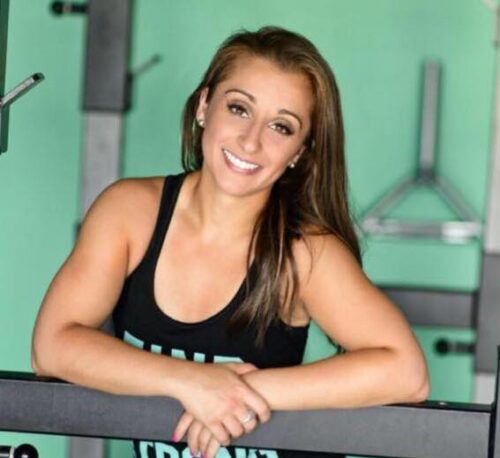 Hi! I'm Christina.
I'm the owner of The Confidence Project, Co., a small yet powerful business, just like yours.
Whether you're in the beginning stages of building your fitness career or trying to pivot your way to the next level, I've been where you are.
The Confidence Project, Co. originally began as a podcast in 2015. Since then, it's grown to become the official name of my company after I closed my other company at the end of 2020.
I became a Certified Personal Trainer in 2009, graduated with a BS in Kinesiology from The University of Illinois and began working at a big box gym in 2012.
A few months later, I quit to do my own thing. (Did I violate the non-compete? The world will never know.)
My very first business was a Sole Proprietorship named CMOfitness. I trained clients 1:1 out of my single car garage while also driving all over town (the rich ones ;)) to train clients out of their homes.
When a client moved out of state and asked to continue working with me in 2014, the online portion of my business was born.
Dozens of certs, 1 Masters in Kinesiology, 1 Masters in Business, lots of meltdowns, and several years later, I expanded the business into a 2000 sqft warehouse and rebranded into Iron Phoenix Strength Club, the only minority-woman owned, women-only strength and conditioning gym in the Midwest.
By 2017, small gym owners and personal trainers were asking me how I did it, so I officially began offering business support and mentorship to business owners in the fitness industry.
Enter 2020. I made the grueling yet calculated decision to close my gym's doors. My online business was producing plenty of predictable and recurring income and had way less operating costs.
Present day, I run The Barbell Collective (my online strength and conditioning program) and provide rock-solid business support and mentorship for brilliant, hard-working women navigating small business in the fitness industry.
I know what it's like to both love and hate your business.
I know what it's like to be passionate and frustrated.
I know what it's like to be intoxicated by your own success, as well as down and out over each and every perceived shortcoming.
I know what it's like to make really hard decisions, and really exciting ones, too!
When it comes to business, I blend strategy and soul so that your business can operate like a well oiled machine without compromising your core essence.
The Confidence Project, Co. employs a small team of women who help me on the backend with all the things.
You will encounter imperfections, a lack of bells and whistles, a lot of straight-shooting, alongside unmatched business support that integrates into every season of business.
I'm happy you're here!
Qualifications & Certifications:
BS Kinesiology, Nutrition Minor; University of Illinois
MS Human Health & Performance, Concordia University
MBA, Elmhurst University
NSCA CSCS
NASM CPT, PES, CES
GGS Pre/Post Natal
FRC, Kinstretch
Certified Intuitive Eating Counselor
Precision Nutriton, L1 & L2
Certified Financial Planner (current)